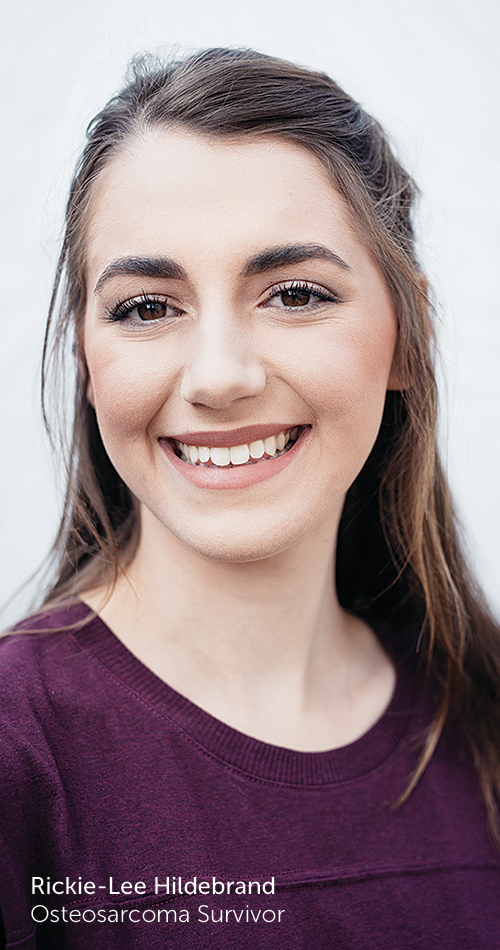 Rickie-Lee Hildebrand
"The Cross Cancer Institute became my home," says Rickie-Lee Hildebrand.
My cancer story starts in my small town high school. It was 2013 and I was in my second semester of Grade 12. I had received early acceptance into two universities — only four months away from graduating and I had just turned 18.
Everyone was talking about graduation. I had a fairly extensive list of things to worry about: making it through diploma exams, maintaining my honour roll grades, finding the perfect dress and high heels for grad, who was going to be my grad date?
What I was NOT worried about was the strange lump on the side of my left knee.
On the day I was scheduled to get my cap and gown photos taken, I had to first see my family doctor. Up until that point, no one could have prepared me for what I was going to hear.
"You have cancer."
Needless to say, I didn't make it to my cap and gown pictures that day.
The Cross Cancer Institute became my home. There were so many amazing people who would help me and try to make a bad situation better. They helped me through my cancer journey.
Today, I am cancer-free, and will graduate from the University of Alberta with a Bachelor of Education in December.
"We are so fortunate to live in Alberta. Patients receive world-class care from across the province, from Lethbridge to Grande Prairie, from Red Deer to Medicine Hat and everywhere in between."
Faisel Shariff
Remembering the Life and Legend of our dear friend, Faisel.
"How can I help with the Lottery?" No matter what he was going through, Faisel Shariff was always helping.
For the past ten years, Faisel volunteered tirelessly to help the Cash and Cars Lottery successfully raise critical funds for Alberta's 17 cancer centres.
His mission started in December 2009, when he was diagnosed with Ewings Sarcoma, a childhood cancer that showed up in his right ankle.
After a below-the-knee right leg amputation and a year of aggressive chemotherapy, Faisel had already gone through all treatment options available to him. He was told there was no treatment available if the cancer came back.
Faisel was cancer-free for 18 months when a soft-tissue tumour was detected on his sternum. Thanks to a recent clinical trial, funded in part by the Alberta Cancer Foundation, Faisel had a new set of options— surgery, radiation, and chemotherapy. It was an aggressive regimen but you would never know it to talk to him.
"I believe sharing my story with people shows that we will make a difference," he said. "Any time they need a hand, I'll be there for them."
Faisel faced cancer five times. He inspired everyone around him with his unstoppable outlook on life. Enduring multiple recurrences, Faisel celebrated incredible life moments. He married his beautiful bride, Aliya, in 2015. In February, they welcomed Rumi into the world. He was eager to meet his dad, arriving five weeks ahead of schedule.
It is with the heaviest of hearts that we said goodbye to Faisel in March. More moments were made possible for him thanks to Albertans like you. He was a beacon of the progress made over the past decade but his passing is a tearful reminder of the work we still have ahead.